Office Rental Opportunity
Are you a nonprofit looking for affordable office space in the heart of Philadelphia?
We may have the perfect space for your work.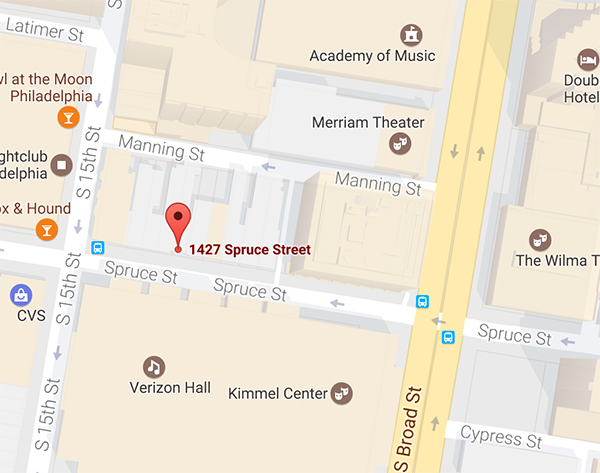 Orchestra 2001 seeks nonprofit(s) to share Suite 1F, located at 1427 Spruce Street in Philadelphia. We are situated on the first floor of a mixed-use (business and residential) historic row house facing the Kimmel Center, steps away from charming Rittenhouse Square. The office is easily accessible by bus or subway and there's an indego bike station right across the street.
The following rental options are currently available:
$550

$400 / month (includes utilities and comcast internet) for middle office: 134 ft2(longest wall is 14.5 ft)



$450

$350 / month (includes utilities and comcast internet) for back office: 112 ft2(longest wall is 14 ft)




$900

$675 / month (includes utilities and comcast internet) to rent both the middle and back offices – ample space for 4 work stations.

Orchestra 2001 occupies the front office and maintains the lease/utilities for the three adjoining offices in Suite 1F. Each office is separated by a partition with a door. Basement storage unit space is available at no additional charge. Sublessees are required to provide proof of liability insurance to the landlord. The above prices will carry through June 1, 2018 when the lease is renewed. The rent has typically increased by 3% ($50/month) upon annual renewal. Each of the spaces are ample for one or two administrative workers who need a desk, shelves and file cabinet. It's not sufficient for large meetings (say more than 5 or 6 people) but small staff and client meetings are ok.
One office is already furnished with an L-shaped desk, chair, mini-fridge, shelving and step trash can. This furniture can be removed if an unfurnished room is preferred.
Contact Alice Thompson, Administrative and Patron Services Associate, with inquiries about the spaces or to schedule a viewing: athompson(at)orchestra2001.org