Orchestra 2001 is a collective of adventurous, virtuoso performers dedicated to the music of our time. The ensemble strives to be an international leader in connecting diverse audiences with the greatest music of the 20th and 21st centuries, engaging new listeners through exhilarating concerts, innovative artistic collaborations, and enriching community partnerships in Philadelphia and beyond.
ENGOMA ENTEERA: Classical Music from Uganda
Justinian Tamusuza, composer
Na'Zir McFadden, conductor
Wednesday, September 13, 2023; 7:30 pm

OPEN REHEARSAL

Cherry Street Pier

121 N. Columbus Boulvard, Philadelphia 19106

Free admission or pay-as-you-wish!
Thursday, September 14, 2023; 7:30 pm

CONCERT

Calvary Center for Culture and Community

801 South 48th Street, Philadelphia 19143 (48th and Baltimore Avenue, West Philadelphia)

Free admission or pay-as-you-wish!
Abaana Bange for soprano sax, marimba, and electric guitar
Baakisimba Zitujja [Premiere] for prepared harp, marimba, maracas, ankle bells, clapping, and pitched drums
Mu Kkubo Ery 'Omusaalaba for string orchestra
In 2023/2024, we will be joined by the husband-wife team of composer Justinian Tamusuza and leading African ethnomusicologist, Sylvia Nannyonga-Tamusuza who will share a cross-continental, virtual/live composer residency from Uganda, prior to visiting Philadelphia in June 2024.
Described as "an African Bartók," Justinian was trained in both Kiganda (Ugandan) folk music and Western classical music, receiving his doctoral degree in composition at Northwestern University. He will compose several new pieces for Orchestra 2001's musicians, using extended instrumental techniques, microtones, and polyrhythms that marry contemporary classical music and traditional Kiganda folk music.
Stay tuned for other events throughout Spring 2024 including the final series concert:
Friday, June 14, 2024; 7:30 pm
Cathedral Basilica of Saints Peter and Paul
1723 Race Street (18th and Benjamin Franklin Parkway, east side of Logan Square), Philadelphia 19103
ENGOMA ENTEERA has been supported by The Pew Center for Arts & Heritage.
EMERGING MARKETS
Major support from:

Launched during the pandemic, EMERGING MARKETS is an ongoing series of informal musical events presented where Philadelphians shop, work, and play. Aimed at breaking down barriers to attendance, Orchestra 2001 tailors performances for markets and businesses in all corners of Philadelphia.

EMERGING MARKETS was honored with a 2022 Arts + Business Council Award alongside programs by Visit Philadelphia and The Barnes Foundation.
RECENT PROGRAMS:
¡CONEXIONES! PUERTO RICO
Mark Loria, conductor

Martha Guth, soprano

FRIDAY, OCTOBER 27, 2023
7:30pm - 9:00pm
Teatro Esperanza
4261 North 5th Street, Phila. 19140
Roberto Sierra – Bongo-O
Angélica Negrón – Quimbombó
Angélica Negrón – Tembleque
Ana María Hernández – Fantasía sobre el seis Mapeyé
Roberto Sierra * – Canciones de amor, poetry by Julia de Burgos (World Premiere)
Martha Guth, soprano
1. Canción para dormirte
2. Canción de tu presencia
3. Canción para llorar y amar
4. Canción amarga
Sonia Morales-Matos – Fiesta #1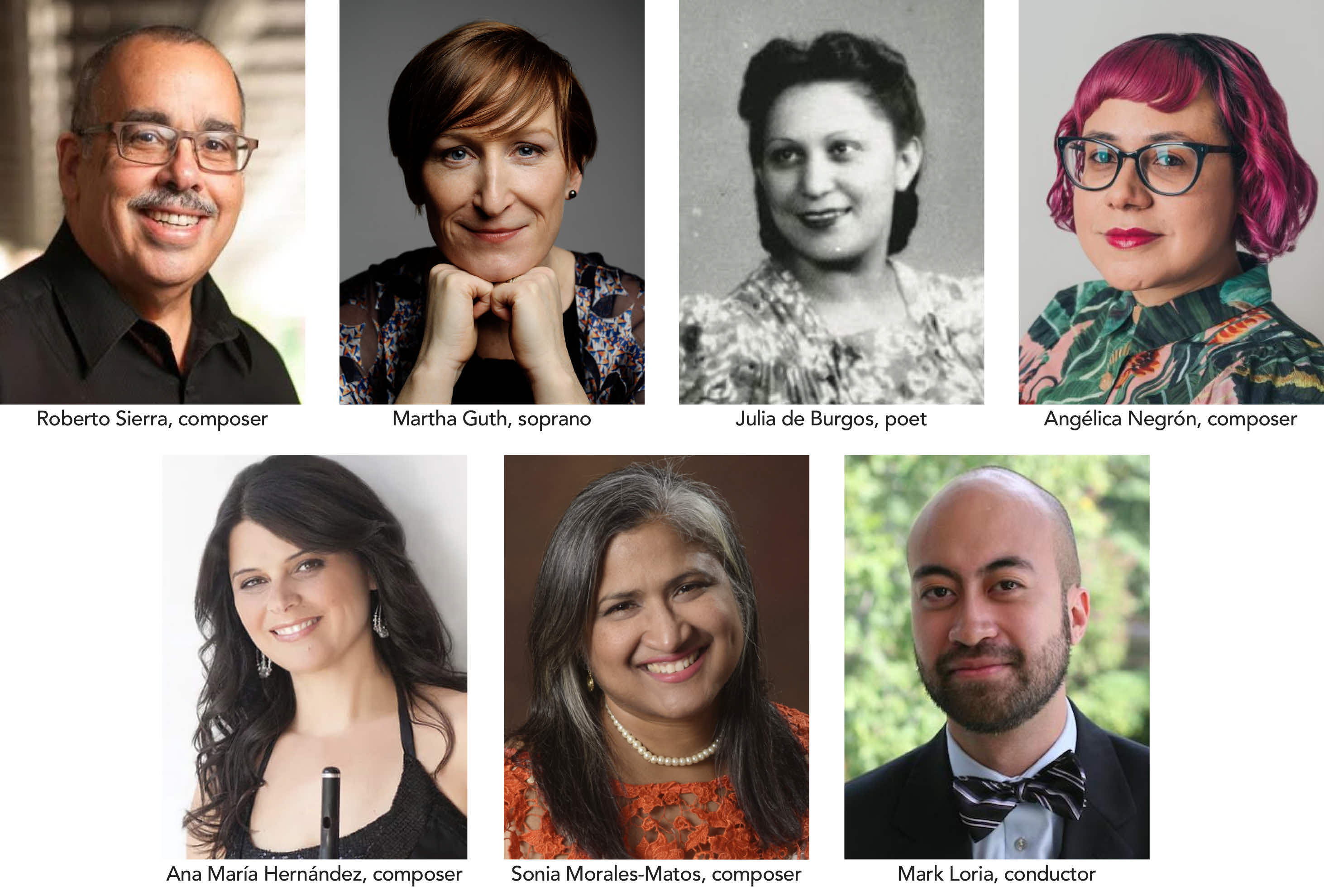 Join Orchestra 2001 for an evening of colorful new music by Puerto Rican composers! The program includes Roberto Sierra's Bongo-O, a virtuoso array of colors, rhythms, and techniques for two bongos; Angélica Negrón's perspective on rhythms and melodic gestures rooted in the island's Afro-Caribbean traditions; and Ana María Hernández' Fantasía, an homage to traditional music from Puerto Rico's mountain region. The brilliant soprano Martha Guth joins us for the world premiere of Roberto Sierra's Canciones de amor, based on four poems by Julia de Burgos, writer and advocate for women's rights and Puerto Rican independence. The evening concludes with Sonia Morales-Matos' rousing Fiesta #1, with influences from across Latin America.

This concert funded in large part by the Paul M. Angell Family Foundation.
*Roberto Sierra's commission was funded by the Steven R. Gerber Trust.

GEORGE CRUMB: Scores at an Exhibition

WEDNESDAY, May 24, 2023 | 7:30 PM
Main Gallery at Slought
4017 Walnut Street, Phila. 19104
Pay-What-You-Can Tickets! $0 – $50

FREE STUDENT EVENT: Thursday, May 18, 2023 | 2:45 PM | Teatro Esperanza, 4261 N. 5th Street, Phila. 19140
Fall 2023 – On exhibition at Cherry Street Pier
GEORGE CRUMB: SCORES AT AN EXHIBITION will explore Philadelphia's well-known contemporary composer (1929-2022) and long-time Orchestra 2001 collaborator, in a visual arts setting. His stunning visual scores are works of art, and presenting them in a gallery context allows for a more complete appreciation of these masterpieces.

Exhibits of Crumb's scores will be followed by performances of several of his chamber music works at Slought, Esperanza Arts, and Cherry Street Pier. Crumb's brilliant "Metamorphoses, 10 Fantasies for Amplified Piano, Book 2" (2020) will be performed by the musician he wrote it for, Orchestra 2001 pianist Marcantonio Barone, presented with images of the works of art that influenced Crumb's modern take on "Pictures at an Exhibition."
Supported by the Musical Fund Society of Philadelphia.
BIRTH OF THE COOL

FIRST PERFORMANCE: (SOLD OUT!)
WEDNESDAY, MARCH 29, 2023 | 7:30pm
Clef Club of Jazz
736 South Broad Street, Philadelphia 19146

ENCORE PERFORMANCE:
WEDNESDAY, APRIL 19, 2023 | 7:30pm
Mummers Museum
1100 S. 2nd Street, Philadelphia 19147

A history-making jazz ensemble with humble beginnings in a basement apartment below a laundromat on Manhattan's West 55th Street... the 12 tunes resulting from that collaboration of jazz and classical giants are a collector's classic, and forged decades of new directions in concert halls, jazz clubs, and film scores. This performance will feature Orchestra 2001's jazz players, including eight leading musicians from The Philly Pops.
¡CONEXIONES! CUBA

THURSDAY, OCTOBER 6, 2022 | 7:30 PM
Teatro Esperanza

Mark Loria, conductor

Ernesto Abelardo Valdés – Almendra
Tania León – Toque
Ileana Pérez Velázquez – Zunzun
Leo Brouwer – La Niña Bonita
Paquito D'Rivera – Preludio y Merengue

Visit the concert page to learn more.

This program is funded by the Paul M. Angell Family Foundation.
Na'Zir McFadden, conductor
Elizabeth Steiner, harp

Harlem Renaissance and Beyond

THURSDAY, MAY 26, 2022 | 7:30 PM
American Hats Factory Showroom


FRIDAY, MAY 27, 2022 | 7:30 PM
African American Museum in Philadelphia

William Grant Still — Summerland
Undine Smith Moore — Afro-American Suite
Duke Ellington — Single Petal of a Rose
(Elizabeth Steiner, harp)
George Walker — Lyric for Strings
Valerie Coleman — Portraits of Langston
Jessie Montgomery — Source Code


Visit the concert page to learn more.

"Harlem Renaissance and Beyond" is part of Orchestra 2001's JOURNEYS series, funded by the Paul M. Angell Family Foundation and the League of American Orchestras' Futures Fund. American Hats Factory Showroom event is funded in part by PNC Arts Alive and William Penn Foundation as part of EMERGING MARKETS.
In The Key of L: Music Along SEPTA's

Market-Frankford Line
Orchestra 2001 will feature musical compositions by Philadelphia composers in pop-up concerts at train stops, parking lots, businesses, murals, and parks along the 45-minute SEPTA route that cuts across dozens of diverse communities.

Part 1 featured music by Erin Busch, Matt Davis, and Jay Krush.

Funded in large part by the Presser Foundation and the Musical Fund Society of Philadelphia.
From left to right: Orchestra 2001 performaces at CHOP Karabots campus (West Philadelphia), the "Love Lot" (Kensington), and 30th Street Station (University City).
STREAM THIS MUSIC ANYTIME – FREE
Orchestra 2001 is Ensemble-In-Residence
at Cherry Street Pier
The COMPOSER AT WORK window features Philadelphia-area and visiting composers, and musicians of all ages and genres. Participants work on site and present their music to audiences at Cherry Street Pier and elsewhere in Philadelphia. Funded by generous grants from the Barra Foundation and the Musical Fund Society of Philadelphia.
100% individual donations support performances
in all corners of Philadelphia!
Our concerts would not be possible without the support of Individual Donors!
Orchestra 2001 thanks its recent Foundation, Government, and Organizational Contributors and Partners: